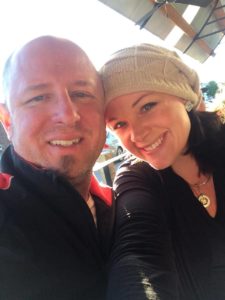 Meet Your Hosts Shane & Jen
We have been short term rental (Airbnb) hosts for years.  In our time as hosts, we have had nearly 2,000 stays at our properties.  All of the knowledge we've gained will be used to provide with you a memorable experience.  We also love to travel.  As a blended family of 6, we discovered how hard it is to travel conventionally.  With 2 adults and 4 growing teens, one hotel room just isn't enough.  Eating out three meals a day isn't an option either.  We don't always need a house on the beach or a whole cabin for a week in Chattanooga.  Sometimes we are simply in need of a place to make dinner and rest our heads before getting back on the road.
The Landing Hub was built from the ground up, with a clear vision in mind.  We strived to create a place that was family friendly, but also accommodating for a solo traveler or a romantic weekend getaway.  We weren't alone in this process.  Our investing partners and friends, Ken and Aimee Murer, saw our passion.  They also have a lifetime of travel experience with children and they quickly took to the idea of something new on the horizon for travelers.  With their help and the help of all the other friends that came to the rescue on those late nights of sanding, staining and building furniture — We can now share our vision with you.
Our love of family, adventure, saving money, and yes, pets are all the driving forces behind our dream.  We love our small town of Pacific.  We are looking forward to sharing our local secrets and our friends with travelers from all walks of life.  We hope to meet at some point during your stay.  It's the feedback from travelers like you that has provided us with the roadmap for our journey.
Really nice, funky space in a great walkable location. Shane & Jen are very responsive.
Shane & Jen's place was a wonderful stop for our cross-country trip. The yard and amenities made it feel like home.
This place is INCREDIBLE! Super clean, stylish and welcoming. Much bigger than we expected. The neighborhood is quiet and safe. Plenty to cook with in the kitchen and super cute. Shane & Jen were so kind to me when I realized that I left something behind that was important to me. They replied immediately and send over the item and made sure I got it safely. I am so appreciative of their hospitality and quick response time. This place is easily 5 stars. My friend and I are grateful to have stayed here.
Space is really homey, spacious and clean. Conveniently located to plenty to do. Recommend you check this place out!
This is a wonderful stay for a great price. The host is very responsive and thoughtful. We especially enjoyed sitting outside on the patio on the summer night! Would love to stay again!
Shane & Jen were phenomenal to work with. The space was adorable and very clean.
After a night in a very questionable motel, our stay at Shane & Jen's apartment felt like a palace. The place was very spacious. There was only 2 of us but even a larger family would have very comfortably enjoyed the space. There were thoughtful amenities there including Star Wars toys probably meant for kids but also enjoyed by my husband. Bed was comfortable. They mention the train in the listing so we were aware - I'm a pretty light sleeper and didn't travel with ear plugs and it didn't wake me up so I would just saw if you are a light sleeper, bring ear plugs and you'll have a super restful night in this lovely home. They were very prompt with responses if we had questions and check in was easy! Thanks for the lovely stay!
Very good and quick communication. Very nice and spacious place. Thank you Shane and Jen.
We stayed in Pacific for one night along our drive from North Carolina to Kansas City. This house is so interesting and filled with tons of personal elements - photos, artwork, etc. It was a really relaxing spot to have dinner and unwind on the couch. Plus, when we told Shane and Jen that we were having car troubles, they stopped by almost immediately to help check it out! This was so generous of them....they are fabulous hosts!
Take a tip from the locals
Hidden Valley Ski Area is a resort in the suburbs of St. Louis and it's just a short drive from The Landing Hub. The resort opened in 1982 and features a variety of terrain spread out over 16 trails and two peaks. The Lodge has a bar, retail space, cafeteria and plenty of seating around the fireplace. It's one of our favorite places to visit.